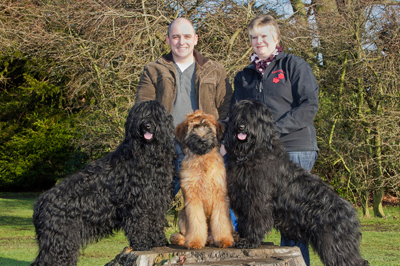 UK Briard breeder, South Yorkshire based
Here at Fostebrie we focus on quality not quantity when breeding our puppies. We believe in breeding good natured, well-balanced Briards, ideal as much-loved family pets. They are also suitable for showing or working. Owning, showing and breeding Briards has been a passion of ours for over 30 years. All our dogs are treated as much loved family members and we expect the same from any new puppy owners. We offer on-going support and advice if required.
Our first and foremost concern is the health and well-being of our dogs and the puppies we breed. The dogs we use for breeding are carefully chosen for their health, temperament, character, structure and conformation.
Most kennels start their line off by buying a bitch. Here at Fostebrie we started with our wonderful lads Storm & Sergio, who like all our dogs today, live in the house with us as part of our family. These two amazing lads were only 10 months apart in age and came from totally different lines. They were the best of friends. The lads grew up, played, went to shows together and passed away within 2 weeks of each other after long and happy lives. We owe it all to our magnificent lads, they are so sadly missed. Their memory lives on in the progeny they both sired.
Owning a Briard should bring joy to their owners. Whether you are looking for a loyal family companion, a dog to show or work, we can provide the right one for you. We are very proud to be Assured Breeders with the UK Kennel Club Ltd, we have been inspected and passed all the rigorous requirements.
If you think a Fostebrie is for you, and you're interested in offering one of our puppies a loving home, please get in touch.
Our location
Here is a map of our location